Notice
C&C International Co., Ltd. awarded the "20 Million Dollar Export Tower"
관리자
2020.12.18 21:35
Click : 370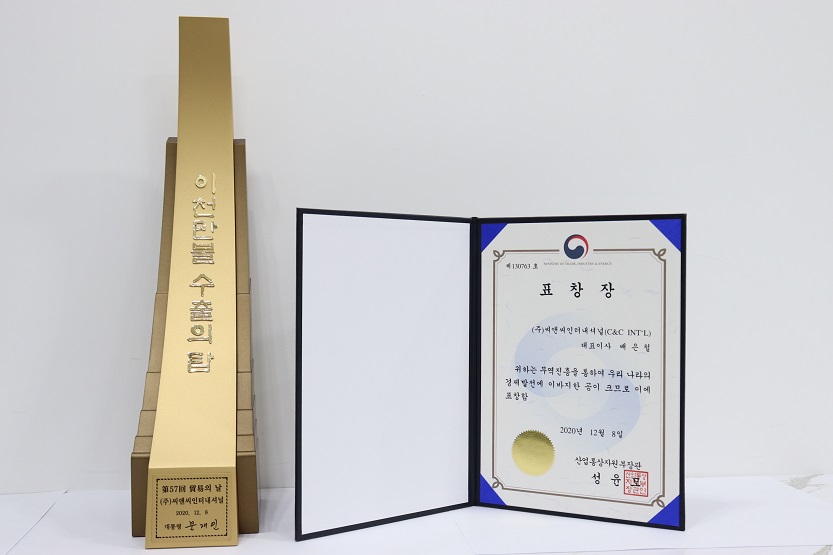 C&C International CEO Eun Chul Bae receives a commendation from the Minister of Trade, Industry and Energy... C&C International to pursue listing on KOSDAQ by 2021
New Yongin plant nearing completion... New plant expected to help establish a global supply chain spanning Korea and China
C&C International Co., Ltd. ("C&C INT'L"), the number one point makeup producer in Korea, received the 20 Million Dollar Export Tower at the 57th Trade Day Awards Ceremony. Meanwhile, CEO Eun Chul Bae received a commendation from the Minister of Trade, Industry and Energy.
Regarding the commendation, CEO Eun Chul Bae said, "The steady increase in direct exporting agreements with global brands in Europe and the United States, which is widely considered the home of color cosmetics, has helped up earn this 20 Million Dollar Export Tower
We feel extremely proud of the fact that a Korean company develops and produces products sold at some of the best-known brands in the world. That's why we expect to boost our exports even further next year. To that end, we plan on increasing the capacity of our new production plant in Yongin, which is at the final stages of its construction."
C&C International is attracting interest from a number of renowned global brands thanks to its know-how and planning ability in producing color makeup over the past two decades. Yongin Plant No. 2 (25,605m2) will join C&C International's existing production facilities - Hwaseong Plant No. 1 (Purple County), the Suwon R&I (Innovation) Center, and the Shanghai Plant in China.
C&C International's solution strategies tailored to each client are based on its principle of using "creativity and trend analyses aimed at consistently developing new color cosmetics the world has never seen before." It supplies to major brands in Europe and North America, and is gradually expanding into global prestige and mass consumer brands.
C&C International recorded a growth rate of 1930% over the five years after its incorporation in 2013, solidifying its status as a "hidden champion" in the color cosmetics sector. In 2019, C&C International brought in a total of KRW 81.6 billion (+18%). Furthermore, thanks to its robust growth despite negative COVID-19-related conditions this year, C&C International is garnering attention in terms of its valuation on the market.
Meanwhile, C&C International has reported that it is exploring the possibility of listing on the KOSDAQ exchange during the first half of 2021. As its IPO organizer, C&C International has selected NH Investment & Securities.
December 9, 2020 - CNC News